36th Annual Luxembourg Fest Week 2022
August 11 @ 6:00 pm

-

August 15 @ 12:00 am

CDT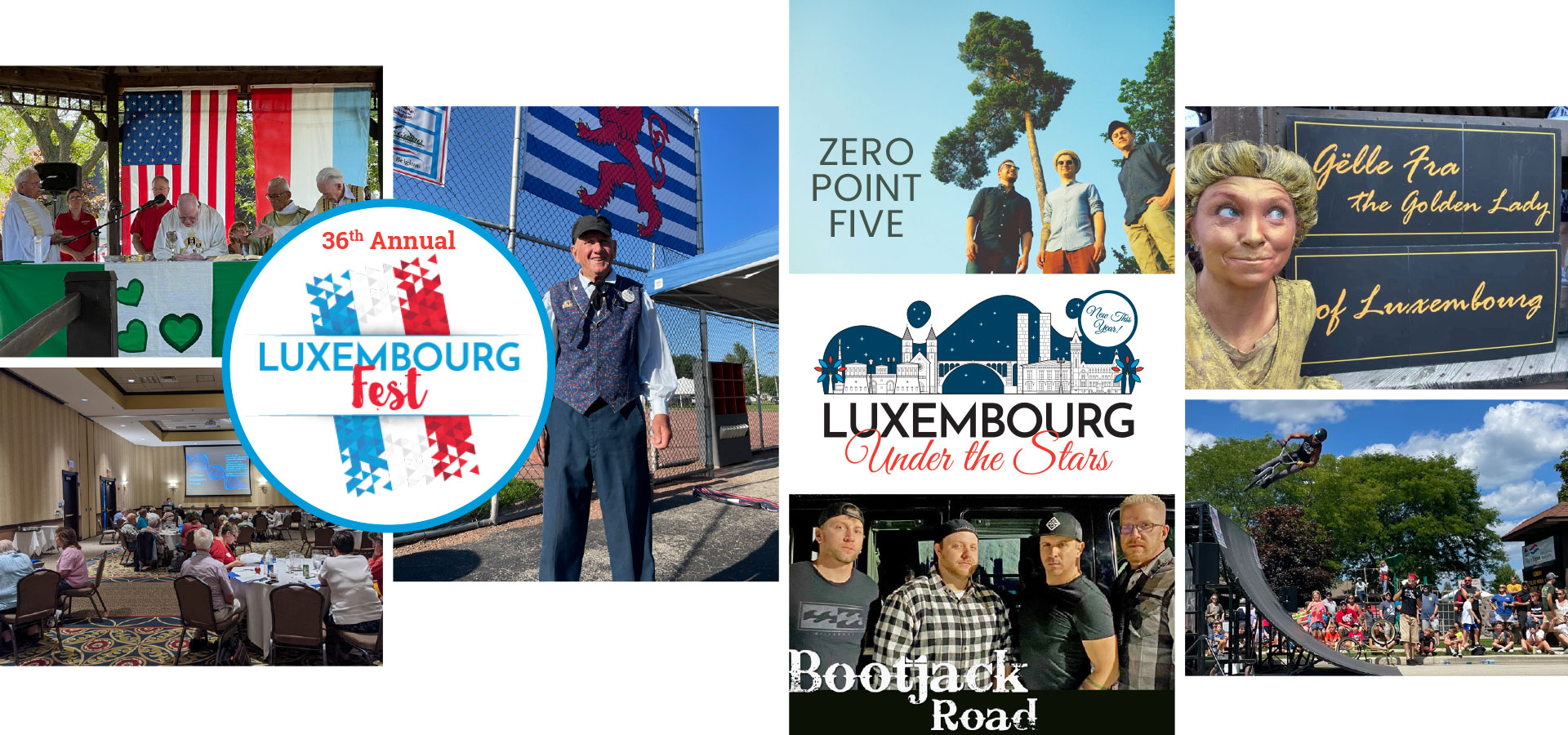 Luxembourg Fest Week
THE WORLD'S LARGEST
LUXEMBOURG FAMILY REUNION
August 11-14, 2022
Annual Members Meeting
WHEN –> Thursday, August 12, 2022
TIME –> 6:00 PM – 8:00 PM
LOCATION –> Luxembourg American Cultural Center – 100 Peter Thein Ave. Belgium, WI
Fest Cultural Forum
WHAT –> "The Jewish Experience in Luxembourg"
WHEN –> Friday, August 12, 2022
TIME –> 10:00 AM – 12:30 PM
LOCATION –> Both Virtual and In-Person @ Ozaukee Non-Profit Center, Grafton, WI
Luxembourg Fest
WHAT –> Luxembourg Festival
WHEN –> Saturday, August 13, 2022
TIME –> 11:00 AM – 10:00 PM
LOCATION –> Fest Grounds @ Belgium Community Park
There will be a Blessing at Village Square at 9:00 AM!
The LACS is open to the public AT NO CHARGE, all Weekend!
The Parade starts at 11:00 AM and finished with the Bootjack Road Concert, ending at 10:00 PM.
———-> Click "Here" for the  complete schedule. <———-
Luxembourg Under the Stars
WHAT –> An Al Fresco Culinary Experience benefitting the LACS
WHEN –> Saturday, August 13, 2022
TIME –> 5:30 PM Tasting, 7:00 PM Dinner
LOCATION –> Luxembourg American Cultural Center – 100 Peter Thein Ave. Belgium, WI
Luxembourg Fest Mass
WHEN –> Sunday, August 14, 2022
TIME –> 10:00 AM
LOCATION –> Belgium Community Park – 106 Beech St. Belgium, WI
Virtual Auction
The Virtual Silent Auction will be open for bidding starting August 6, 2022, at 10:00 AM central time.
Bidding will close on August 13, 2022, at 11:59 PM central time.
You will need to register a credit card to participate.
For any Questions? Contact the LACS by emailing [email protected] or calling 262-476-5086.